Post the FA Cup semi-final heroics I thought that we might suffer a little dip in performance, which we evidently did vs Leicester, however a tasty own goal from the Ork child himself, Robert Huth, got us over the line. In a midweek battle where Sp*rs got a little lucky with their 1-0 win vs Palace as well I thought they might still be suffering from the fall out from their cup loss, however it wasn't to be. They rallied, as a TEAM does in these circumstances and they responded in the right way. It takes me back to the time when a Wayne Bridge goal knocked us out of the Champions League quarter final and played Liverpool a few days later. We ended up winning that game 4-2 with a virtuoso performance from Thierry Henry, and yes whilst we might not have a talent as great as that right now, but we had a TEAM of players willing to fight for the cause, which is something that just doesn't exist at the moment.
That brings me to the events on Sunday. We had moments in the game, mere flashes of hope, yet were well beaten by a team who simply are more well drilled, had more energy, more drive, more determination and most importantly had a plan. One that they stuck to. One that has seen them rise above us and deservedly so. If it weren't for Petr Cech it could well have been worse. They've played the better football and looked consistent throughout the season. What's gutting is that we at the very least looked as though we had a plan over the last twenty years, but it's the last couple that have looked devoid of any real belief in a system or idea behind the way that we are playing. Finishing below Sp*rs is most definitely a gutting one, and its something that they've had to put up with for the last 21 years so just imagine how they've felt for that long? Thankfully we haven't had to endure as much. In that time we've won the League 3 times and brought the FA Cup home 6 times, where they've brought home only a League Cup. People will talk of 'power shifts' and 'minding the gap' yet there is a long way to go for them to do that, though we can't deny that this is a step in the right direction for them. We have far bigger problems than that of finishing above them, we need to look under the hood and make some really big changes. There's a lot that isn't working when the foundations are actually good ones to work with, so any form of stagnation is a dangerous path to follow. As I've said many a time before, change is needed but acknowledgement and a plan of that change is what's missing and causing us to misfire at the moment. I understand that Arsene Wenger isn't sure as to how he might be manager next season, but I'm not entirely sure that's the clubs problem. Though I may be wrong here in that the club aren't making the decision leading to the unsure performances we are seeing this season. In any case, there is a lot that needs changing.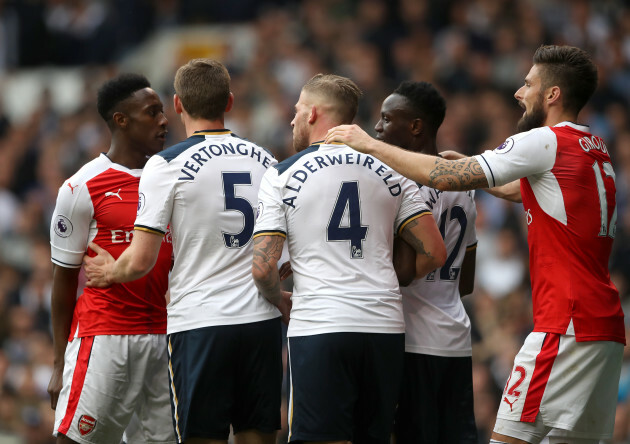 I thought the result and performance would be the worst part of the weekend, yet there was something that topped it. Now I'm no fan of Arsenal Fan TV, as I've said on many occasions, yet for any fan or person for that matter should in no way have to suffer racial abuse in any way shape or form. Earlier in the season when there Xhaka was surrounded by his racist controversy I wanted the book thrown at him as there is no place for that in football, nor anywhere else. Thankfully he's been cleared of the accusations and nothing more. Yet after having beaten your biggest rivals and finally finishing above them after 22 years, you would think that joy would be the main emotion. However a police escort was required for Robbie of AFTV who was heckled with racist abuse as he exited the stadium. One man shouted "come over here you black c*nt" followed by another making monkey noises. Absolutely horrific behaviour. The video can be seen here. There's nothing even to understand here other than there is still racism in the game today. For two clubs who 50-60 years ago would go and watch the other team when their team was on an away day to descend into racism as a way to separate themselves is the gutter of fandom. I know that in today's age we live in a world clouded with vanity and also live in a more tribal world with regards to sport even though it's become more sophisticated, but there is no place for racism. Abuse and other such 'banter' for the want of a better word is understandable, yet there is a line. It was crossed. It's not the whole fanbase of course, it's a few amongst many but for it to still be present at all is the real issue. I wonder what Victor Wanyama, Danny Rose, Kyle Walker & Moussa Sissoko think of it all? They will undoubtedly be using social media, as all footballers do in today's world, so will see the video at some point I'm sure. Losing with grace has never been something I've seen in football but winning with it has been, it's something that not all teams possess.
We're now a massive outside bet for the top 4, yet far stranger things have happened, as well as the fact that we have a Cup Final to play for. We could yet end up in the Top 4 along with an FA Cup, which in my eyes would be a pretty good season. Especially considering our predicament from January onward.
Try to have a decent week folks, the Sp*rs fans will 'banter' us into oblivion of course, yet nothing has been won by anyone yet. Also remember that Arsene Wenger is the most successful manager in terms of winning titles at White Hart Lane.
Follow me on Twitter @MiteshLakhani1.