The blog is a few days late this week, purely because I couldn't quite bring myself to write about the same failings yet again. The same soft underbelly exposed yet again. The same lack of fight shown again. The same season repeated yet again. Watching it all unfold is so so difficult. 5/6 years ago this type of capitulation with the squad we had back then might have even been understandable, however with the squad we do have, it's utterly unforgivable as to the predicament we are in. I mean when your captain on the day says that he knew 'they wanted it more' from kick off it's pretty damning. That is something that is well within the control of every Arsenal player, 'wanting it more' is basically trying hard. Awful, awful post match stuff from Theo.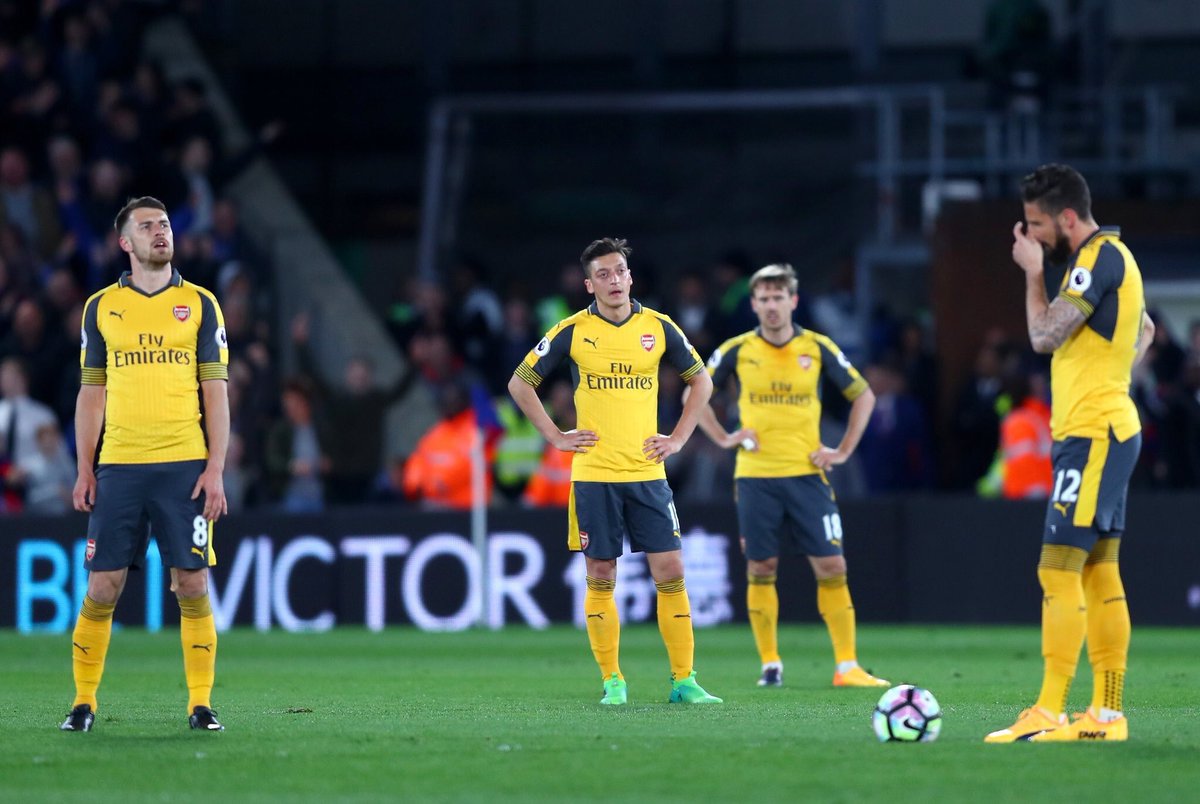 A little perspective is required here however, as our position is pretty much par for the course based on what we have spent over the last decade. People will say that we spent £100m last season, which is a fair point, however it's about the money we've used to build a squad. It's comfortably 6th behind City, Chelsea, United, Liverpool & Sp*rs. That being considered we've overachieved, but the reason for that has always been that Wenger has been able to get more than the sum of the teams' parts out of our squads in years gone by. Now however, we have a squad that can and should be able to compete. Now we have the personnel and money, to a degree, to kick on (and have done for the last 2 seasons), yet all we have seen is stagnation. The goalposts have moved, yes, but so has our firepower, which the spend argument can no longer hold up against. Now considering we have the squad we do and yet are falling short of simply competing at the top (which we evidently are not) lies firmly with the powers above. The manager and the board are the accountable ones here. Inaction has led to the position that we are in. It stemmed from us only buying a goalkeeper two summers ago, when adding another world class footballer to the ilk of Ozil & Alexis is what would have landed us the title last season. I'm convinced of it. Thereafter we've been playing catch up and playing it badly.
We know our transfer deficiencies and have done for some time, which is a twofold problem. The manager has too much control on this front and secondly we just don't have the same budgets as others. The larger issue this season has been that our board have been hiding behind the manager in a more visible manner than ever, simply because the manager is willing to take the flak. We keep hearing that an announcement will be made soon from the manager, but what does 'soon' mean? Every fan of the club is none the wiser as to what is happening nor what will happen. Any other 'normal' football club would have acted in some way at least to appease the fans, however we are not a 'normal' club and what is becoming more and more evident is that the higher ups at the club don't really care about the fans. They are barely paying attention to any of the noise being made on change. They've backed themselves into a corner that they are happy to sit in whilst wearing a blindfold with their fingers in their ears. To them it's not a corner, it's just where they exist and they don't really give much consideration to their surroundings. Kroenke's teams have always been mediocre in terms of sporting achievement, yet from a business standpoint he makes a killing. From a business point of view why would he change? The fans are making more and more noise sure, however it has no impact on his life therefore he doesn't care. His life will only be impacted when we aren't making money for him, which is why we are stuck in the most chicken and egg dance you've ever seen. It seems as though short term failure may lead to change, yet no real fan wants their team to fail. It's a paradox that I detest. The time is now to make a statement or announcement to quell the fears of next season and beyond. Even if Arsene Wenger is to stay they should announce it now as it will give the players focus. The only reason that they haven't is due to the growing fan unrest and that's the ironic thing about it all. It's something to 'show' the fans that they do indeed consider our feelings when thinking about the future of the club. The fans want clarity and they're not providing it, which is the most Arsenal thing to do from the board. They never give answers when they are required to do so, only when they feel like 'it's right' for them.
Having said all of the above, we are still well within reach of a top 4 place as well as the FA Cup, even if current form doesn't give us much hope. This still could be a successful season in that we win a trophy as well as qualify for the Champions League, but the only way this will happen is if the club announces what needs to be announced (either way) before the cup semi-final. I've said it so many times that I'm bored of repeating it now and boredom eventually leads to apathy. I'm not there yet, but I can imagine that a fair few fans are heading in this direction. The cash cow that is Arsenal Football Club is on the brink, at a cross roads, at a critical point. Plenty of watershed moments to come I feel, however it could yet be salvaged. Onto Boro next Monday. Ughh.
Have a great Easter weekend folks.
Follow me on Twitter @MiteshLakhani1.