We stand at the precipice. Our club is being treated as a play thing by a number of people at the moment and it's now proving to be causing us problems on the pitch. Stan Kroenke, Ivan Gazidis and Arsene Wenger are playing a form of chess with each other that has now broken into full scale chaos on the pitch. The fans are growing more and more restless by the week and it's purely because there is so much uncertainty surrounding our club. The shambles that was our performance vs West Brom will become a more common occurrence until clarity is provided.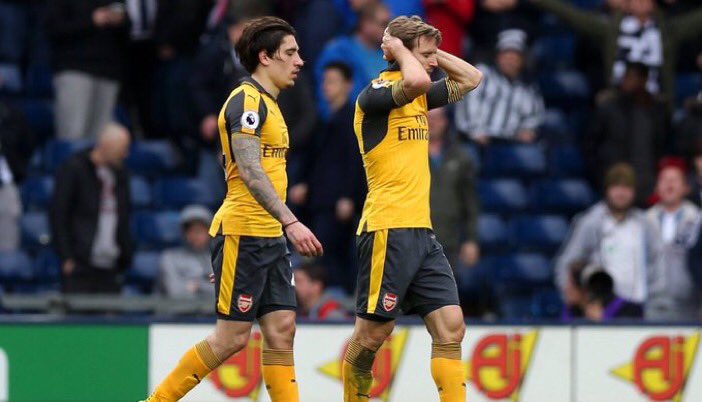 Last week Arsene Wenger said that he hadn't yet decided on what he was going to do and that it would most likely be a decision that was reached come the end of the season. Soon after the West Brom debacle he said that he had now reached a decision and that we would all know his answer "soon". I think for the first time he's seen what a fair few fans have thought for a few weeks now, he knows he's lost the dressing room. There are many that have said "why had he not seen this sooner?", to which the response is simple; he's too close to the club to be able to see things like that so quickly. It's like when your kids do something that is slightly wrong in the eyes of other people, the immediate conclusion you jump to is "my child would never do such a thing, how dare someone say such a thing!?" (that's the PC response anyway). You never immediately see what your own do wrong and that's what it has become for Arsene. The Arsenal are his kids and he just didn't want to see that he'd lost them. You can now fully see that there aren't many players who are playing for him anymore and there is only one reason as to why. They don't know who they are playing for. They don't know if they will be there next season. They don't know where they want to be next season.
The players need to know whether they are going to be fighting for Wenger next season or whether it will be a new man in. If it is going to be a new man in then who is that man going to be? Will he want them at the club? Will the system change? You might think that it's crazy that players think like that in this day and age as managers change everywhere and all of these players will have played in teams where there is uncertainty around the manager. However this is Arsenal, and that has never even been a whiff of a debate until recently. All of the players have known what is happening and where their futures lay. This is new territory for them and the uncertainty that began as a thought in the back of their minds has gnawed away and now become their only focus. This is why Wenger has now seen that the only way to resolve this is to announce his intentions. Even if it is to stay at the club (which I just can't imagine he would want to do) it would give all the players at the club a message: This is the man that will affect your career next season. That's when you might see a reaction from some of the squad at the very least. If he announces that it is to be his last season it will definitely help to galvanise the squad, but in addition he will only announce something like this if there is a successor in place. This is the key for such an announcement, as you can be sure that every single player will want assurances over what their place will be within the squad next season. It seems that if the announcement is to be that he will leave the club actually do have a replacement in place.
I think that the decision has been known for a while but that Wenger has been hamstrung by the club's inability to secure a replacement until now (if indeed this is what is going to happen). If the announcement is that he is to stay at the club then the players will at least have some clarity but the plane-wanker brigade will only grow ever louder and I just can't imagine why Wenger would want to put himself through that even for one more year, though the man is stubborn and who really knows what he is thinking right now. The Alexis and Ozil contract situations were the main portion of debate in January and now we're in a place where even these questions have dried up. Is it because everyone has just accepted they've gone? In my opinion it's become clearer that these are in no way going to be resolved or even spoken about until the manager situation has been addressed. Gazidis and Kroenke are the cause of this situation simply by their silence alone.
It will be a long two weeks without football and the results didn't go at all well for us this weekend. We're now 9 points adrift of Sp*rs (1 game in hand), 7 adrift of City (1 game in hand), 6 adrift of Liverpool (2 games in hand) and now 2 points behind United having played the same games. Even Everton are now level with us albeit having played 2 more games, but games in hand are nothing to take for granted as far as we're concerned. We have to somehow pick ourselves up in time to face a Man City side chomping at the bit for their manager. Pep's even getting performances out of Yaya Toure who looked like a passenger last season. I think that the announcement needs to arrive before we play them in order to bring the fans and players together.
Only one thing now remains, for Wenger to decide to jump or not to jump. Actually not to decide, just to announce. This season could well end in glory with an FA Cup win and a top four finish, however it could equally end with us losing the semi final to City and finishing 6th where end times will be spoken of to the nth degree. I really hope it's the former and that it's the send off that Arsene Wenger well and truly deserves.
Until next week.
Follow me on Twitter @MiteshLakhani1.