Last week I sat down and I wrote about our season being on a knife edge. Two huge games to really show ourselves as challengers rather than also-rans. Watford arrived and we took that knife and started using it on ourselves. It became self harm. Still, not all was lost, having seen Chelsea play out a 1-1 draw at Anfield there was still hope. Consider that we had beaten Watford and drawn away at Chelsea, you'd have taken that right? Not ideal but still not terrible. That scenario would have seen us trailing the leaders by 6 points, which would still be attainable. Having lost however we would need to beat Chelsea in order to reduce the gap to 6. We were still in it, but then implosion happened.
I'll quickly discuss the games before trying to attempt to see where we go from here. Watford was, in my opinion, a gamble that Arsene Wenger had made to keep the squad as fresh as possible for Chelsea. He thought that Giroud starting up top would be good enough to see off Watford and it really should have been in all honesty. They hadn't won a league game in 6 games so coming to the Emirates was always going to be a tough one for them and what should have been a walk in the park for us. To my mind it was a great opportunity to put Alexis back in the CF position to get the team used to the more pacy shape once again before the showdown at Chelsea and revert to Giroud if needed, however Wenger gambled. The uproar on social media was around not playing the likes of Walcott and Welbeck after such a great showing vs Southampton. This was good management as they've only just come back from injury so I don't really agree with that debate, especially considering the players in question have the distinct biscuit base about them. My issue was that we could have gone with Alexis up top flanked by Perez and Iwobi to allow the rest of the team to get used to playing with pace at the forefront. It's no wonder that when Giroud came off at half time that for the first 20 minutes we could have had 3-4 goals. It's in the last 20 that we looked a little lost as when Watford went narrow defensively we had no focal point to make them have to work at all. But as I said, Wenger gambled, and it well and truly did not pay off. Then we had Chelsea. Straight off the bat I want to say that we were most definitely not good enough to win the game. Our reaction to adversity wasn't apparent in any way. That being said Chelsea are a tough nut to crack when they are a goal up, especially away from home. The goal that they scored was what I have an issue with. Alonso jumped with his arm first and clattered Bellerin. The whole of the world labelled him 'brave' and reverted to type by saying that Arsenal had exposed their 'soft underbelly' once more. Everyone just loves saying that and loves to say we're the same old 'nice' Arsenal that can't stand up to physicality. This opinion can well and truly get in the bin. So many people were saying "that's just how you jump". Firstly no it's not and secondly @Gunnerblog put it perfectly when he said that a high foot is simply how you kick the ball, yet it is still dangerous play. Anywhere else on the pitch and it would have been a foul. Gabriel was reprimanded for an arm across the face even though his eyes were on the ball in the second half. The FA once again displayed their incompetence through persisting with inconsistency and awful officiating. It took out a big part of our game plan in having the best right back in the league taken out of the game, so both going forward and at the back we were hampered. That being said out inability to react to a situation of adversity is what really frustrates. Yes the worst situations can occur. Yes we had the right to feel aggrieved. But the time for feeling sorry for ourselves was not during the game, it should have been afterwards. The lack of fight is what irks. The lack of solidarity amongst the team is what irks. The big question is what do we do to change this? The truth is, I have no idea.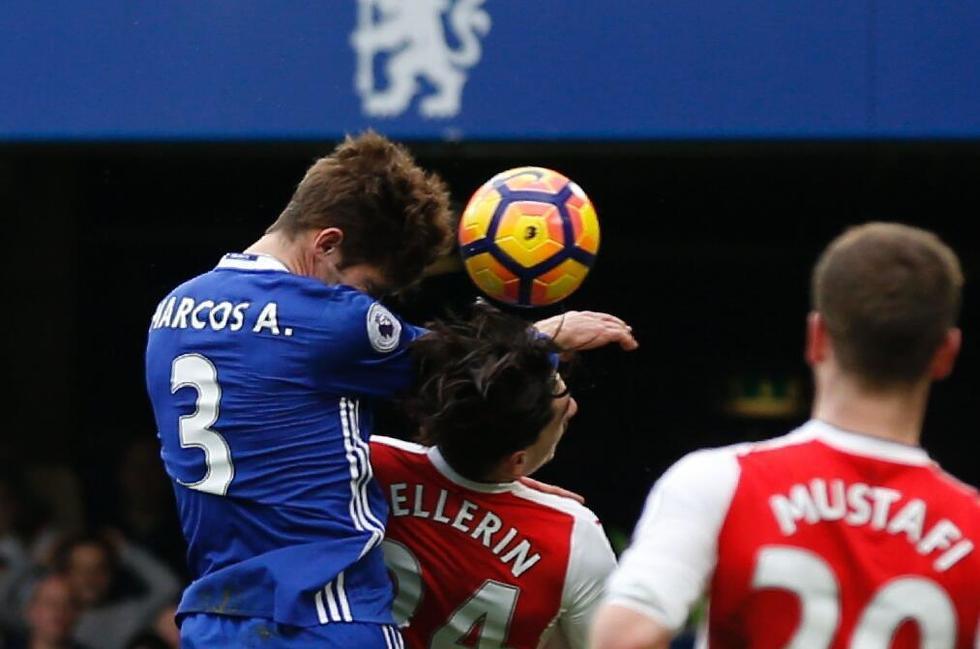 The club feels like it's at a cross roads and it tends to come to the fore after a big defeat. The manager is questioned. The hate for the board is brought up. The incompetency of certain squad members is highlighted. But above all, the manager is the lightening rod at which the majority of the vitriol and anger is directed towards. I understand the anger and understand why it's directed at Wenger, I mean who else is there to vent at? I also understand that there is change wanted by a lot of people who follow the club but equally not wanted by a lot of people who follow the club. How does one decide on change then? We full well know that the board won't change a jot until the money stops flowing in and continued success commercially means that won't happen in the short term so what needs to happen? The main line of frustration sits around the money we could have spent and who we could have spent it on. Steady building of squads is not appreciated by the masses anymore and this means that success is the only way people will accept it. Since 2005 we had to wait another 9 years for a trophy and we've gone another year without one, which is why the fans patience is beginning to wear thin. But I think in all honesty that no matter who comes in to the job they will be hamstrung by the same things Wenger is. We have money but not the same money as the likes of Man City, Chelsea & Man Utd. Wenger was asked earlier this week about Kante and whether he was ever interested in him. He answered that he was and that he tried to buy him, however for 'obvious' reasons he chose to go to Chelsea. Those reasons are money. He turned down Champions League football with Leicester as well as Arsenal and ended up moving to Chelsea. Do you genuinely think that he saw the potential in Antonio Conte? Did he see that he was going to be a part of something special once again with a team who finished 10th? Nope – it was money. Cold hard cash. Yes Chelsea are a big side who are always going to be amongst the trophies, however to sacrifice European football for money says it all. It's clear that Wenger had a plan whereby he wanted Xhaka alongside Kante, with Xhaka being the new Cazorla and Kante the new and improved version of Coquelin. It didn't transpire and it wouldn't have transpired with Conte in charge at Arsenal and Wenger at Chelsea. So will a change of manager make a real difference as to who we can attract?
Nope. Money will though (N.B. the above is 2015/16). And so we arrive at Stan. Oh so silent Stan. His unwillingness to invest any money into the club and continue to take money out mean that he is a smart business man but not one who gives a fishes tit about the club. Alisher Usmanov on the other hand wants to buy us Lionel Messi, however won't be allowed to take over the club as Kroenke is making boat loads of money without any investment into the club. I really don't think that anything much will drastically change until something at the very top does. Wenger has manoeuvred through the worst conditions imaginable when everyone expects you to mount a title challenge and he's brought us pretty damn close considering the circumstances. We should have won it in 08′, 14′ and 16 but for some tough luck and a few bad calls by the man in charge. I really do get that sometimes a man who was a little more ruthless at the helm we may have had a title or two in the bag, but we may not have the identity we do as a club now. There's a reason Ozil is the one who is maligned more than Silva, Hazard, Pogba or De Bruyne. There's a reason people dislike Arsene Wenger for the principles that he stands for, rather than Mourinho for his personal attacks. People look at our great football club with envy because they do secretly wish that they could win whilst being run the way we are. One thing that does annoy me a little is the future of our manager as well as some of our players. The contract situations of Wenger, Ozil and Alexis are frustrating purely because it doesn't look like we are properly prepared for if Wenger decides to call it a day. As much as I think that he should leave on his terms I still feel as though there needs to be notice given in time to plan for a replacement. The club is bigger than any one man and I really do hope there's some background miracle work being done to assure the future of our club.
All things considered something does need to change as I'm not sure the majority of the fan base will continue to be content for too much longer. Who knows what that change is and when it might happen? The one thing I do hope for is that Wenger isn't cast out to sea before the season is up. We still have The Champions League and FA Cup to play for and with some luck we may well go far in those competitions. I'm trying to be positive after what can only be described as abject disappointment, however the season isn't quite yet over folks. Have a great week.