Phew. What a way to win a game of football eh? Getting 3 points no matter how they come is definitely an OK statement if it doesn't mean abandoning the principles we all know and love about Arsenal football club. Saturday afternoon was one of those days. We were quite poor throughout and were a little lucky to come away with all 3 points. Sure we created chances and could have won it much earlier, however Southampton also created chances and could have easily walked away with all 3 points. To the game…
We started so sluggishly and looked so far off the pace it almost looked like the first game of the season after every single one of our players had just come back from playing in a major tournament having reached the final of the competition over the summer. And that's being polite. It most definitely had to do with an unbalanced team selection, that was both a calculated gamble as well as a long term team decision. Wenger obviously saw that Xhaka had played 90 minutes (almost anyway!) for the Swiss, that Alexis had travelled from afar & also that Giroud had also played a sizeable part for France over the international break. Largely the team picked itself. Mustafi came in to protect the young holding, Cech, Bellerin, Monreal, Cazorla, Coquelin, the Ox & Perez had no international football so made sense as they were fresh. Koscielny just had to play as our back line needs some leadership and direction. Ozil played simply because he's looked in sparkling form at the beginning of the season as well as looking fully fit and Walcott has also started the season well and only played a small part in England's victory and so were put into the side. All of the selections with this in mind made perfect sense, however taking a step back, Wenger had asked Santi Cazorla to adapt his playing style once again as well as asking Perez to work with two traditional wide men rather than link men. This made for a tough debut for Perez as well as a stuttering pattern of play when going forward. It was a huge gamble in a game where we simply could not afford to lose. Draw even. The pressure was on and the players didn't seem to be responding to the call.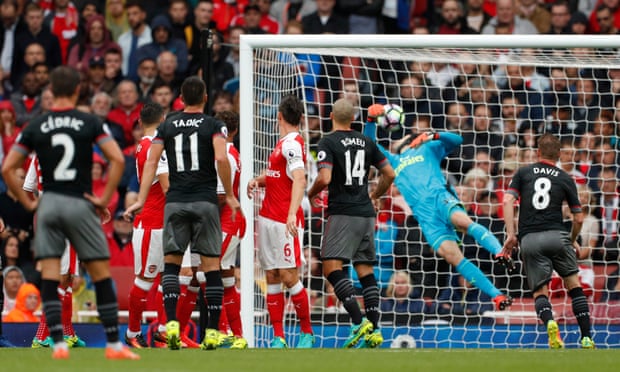 Southampton deservedly took the lead all be it in a fortuitous manner through a Cech own goal. A Tadic free kick was tipped onto the bar only to rebound into the net off Cech's back. The remainder of the half continued with a few half chances and we took one when Koscielny decided to score an absolute worldy. A Walcott corner wasn't fully cleared and a Perez kept the ball alive with a header allowing Kos the Boss to plant an overhead kick into the corner of the net. 1-1 and game well and truly on. The second half followed a pattern of us knocking at the door and being caught on the counter a few times. Shane Long had one great chance to put Southampton in front with around 15 minutes to play but chipped wide. Then for once when a player was down injured (all be it our own!) we carried on playing, and through that play we managed to win a penalty. Giroud was hauled down by Fonte and no matter what the pundits say and what Howard Webb the expert ref says about Fonte "being a good lad" and "not that type of player" it was a stonewall penalty. It's all sounding something along the lines of if Southampton had got the penalty it would have all been about how they made their own luck by putting it in the mixer and causing the defender to make the error and because it's the bigger club that's got the rub of the green it's never a penalty. Well you know what – piss off. Giroud's shirt was almost taken off him and not only that but he was kicked by Fonte once the ball had gone. P.E.N.A.L.T.Y. There was a delay of a few minutes as Koscielny received treatment and piled the pressure on Santi Cazorla. He finally took the penalty with the clock at 94 minutes and dispatched it by slamming it straight down the middle and duly upset Fraser Forster, the largest tosser to be playing at the Emirates on Saturday afternoon. We had to contend with another 4 minutes of pressure from Southampton but held on and took all 3 points. Yes it was stressful. Yes it was painful. But most importantly the gamble paid off. It may not work every time but when it does we really have to give the manager credit. It will mean that we go into our first Champions League game on a positive note and able to select our best XI without any trepidation.
The main talking point of the game at hand was our defensive midfield option of Coquelin. Whilst Cazorla has been able to adapt his game to play with both Xhaka and Coquelin there seems to be quite the chasm in our performance when Xhaka plays. Now there were elements of the team set up that didn't help out Coquelin as he normally plays really well when he has a more conservative wide men. Whilst Theo has started the season with tremendous work rate and The Ox has a point to prove they are far less capable than the likes of Ramsey and Welbeck/Alexis at doing their share of the dirty work. This leaves him more exposed that he is capable of handling, which is not his fault really, but it is going to be a recurring theme when Xhaka needs a rest or is inevitably suspended for taking someones head off. One we'll have to keep an eye on for sure. With regards to the debut men Perez had a fairly quiet afternoon, more due to service rather than anything however still managed to register the assist for Koscielny's goal so not a bad start. He could have done with having a more mobile wide man next to him such as Alexis or even Iwobi, but circumstances dictated otherwise. Still, a decent debut. Mustafi did fairly well, however wasn't thoroughly tested and he did provide a worrying moment. For Shane Long's one on one chance both him and Koscielny were attracted to the ball allowing Long space to run in behind, which was a little worrying. They will face far better forwards so I hope it's a case of learning each others' patterns and developing an understanding more than a clanger. If anything it was Koscielny found wanting in that move, however it's indicative of two things; firstly the players that Koscielny has had to play alongside previously and secondly the lack of trust in the new partnership. This will mature and improve for sure but I hope it's sooner rather than later as PSG are but a few days away.
All in all a good weekend. Especially because the £1bn manager lost with his all conquering Man Utd side, yet still contrived to blame the players outright before finally saying "it's my fault it's my fault". Gameweek four ladies and gentlemen, gameweek four.
Oh and Happy Birthday Laurent you absolute beauty (you too Lucas).
Have a great week.
Follow me on Twitter @MiteshLakhani1.